Getting Married in the Philippines: Three Blue Leaf Venues in Metro Manila
October 23, 2019
 Wedding planning, albeit an exhilarating and exciting endeavour–can be one of the most stressful undertakings you will ever experience in your life.
From coming up with a budget, choosing wedding suppliers, and finally executing the logistics of your event, planning a wedding can indeed be a handful. However, before you go into the nitty-gritty details of the wedding planning process, you must take into account your wedding reception venue. Of all the things you might have to choose for your big day, selecting a reception venue might be the most important thing for you to do. Your reception venue selected dictates the size of your event as well as the allowable logistics that go with it. In this regard, scouting around for wedding reception venues should be your first and foremost concern.
To many engaged couples, choosing a reception venue is just one of the many tedious wedding decisions they have to make. But, what makes it exciting is the fact that there is always a venue for every couple there is. With a myriad of wedding reception venues in Manila, you can be confident in the fact that there is always that ballroom, function hall, or garden that wonderfully incorporates and encapsulates your style. Finding it would not be easy, so a little patience (as well as persistence) will be required on your part. Before deciding and locking down on a venue, determine your prospective guest headcount, as well as your theme, then harmonize that with the wedding venue you have in mind.
To help you create the wedding of your dreams and find the wedding venue appropriate to your style and event size, here are three Blue Leaf wedding venues in Metro Manila (in no particular order):
1.)  The Blue Leaf Events Pavilion (TAGUIG CITY)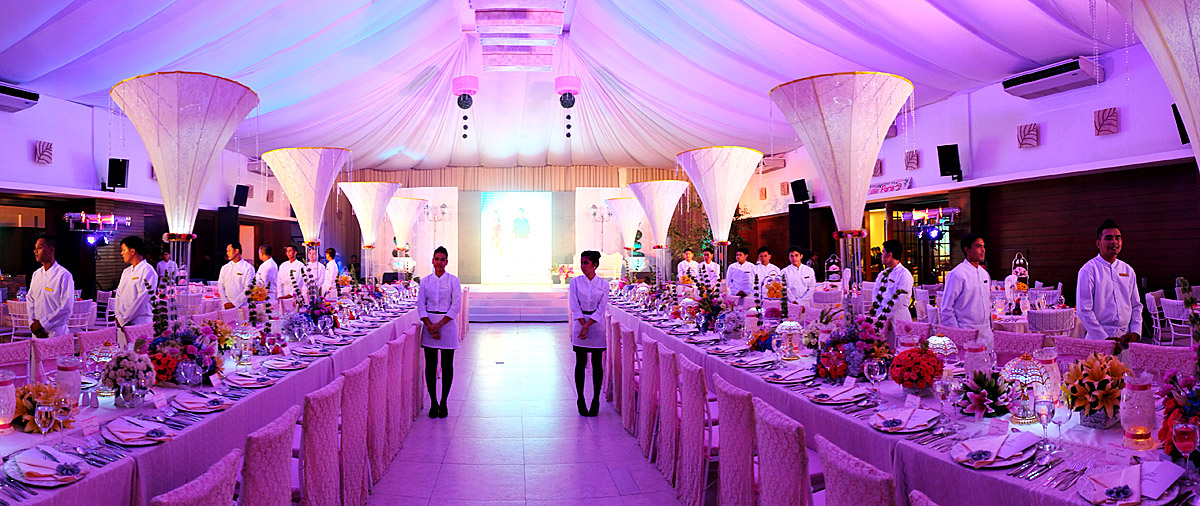 The Blue Leaf Events Pavilion is one of the premier events place in Metro Manila. It houses three pavilions of varying sizes, all suitable for any wedding theme and couples looking for an elegant urban setting for the wedding reception. Located in McKinley Hill in Fort Bonifacio, The Blue Leaf Events Pavilion is perfect for couples who are looking for accessible big and grand spaces. The Banyan Pavilion can seat 300 guests, the Jade 150-200 guests. Couples looking for a larger area can combine both to make room for more significant celebrations.
2.)  The Blue Leaf Cosmopolitan (QUEZON CITY)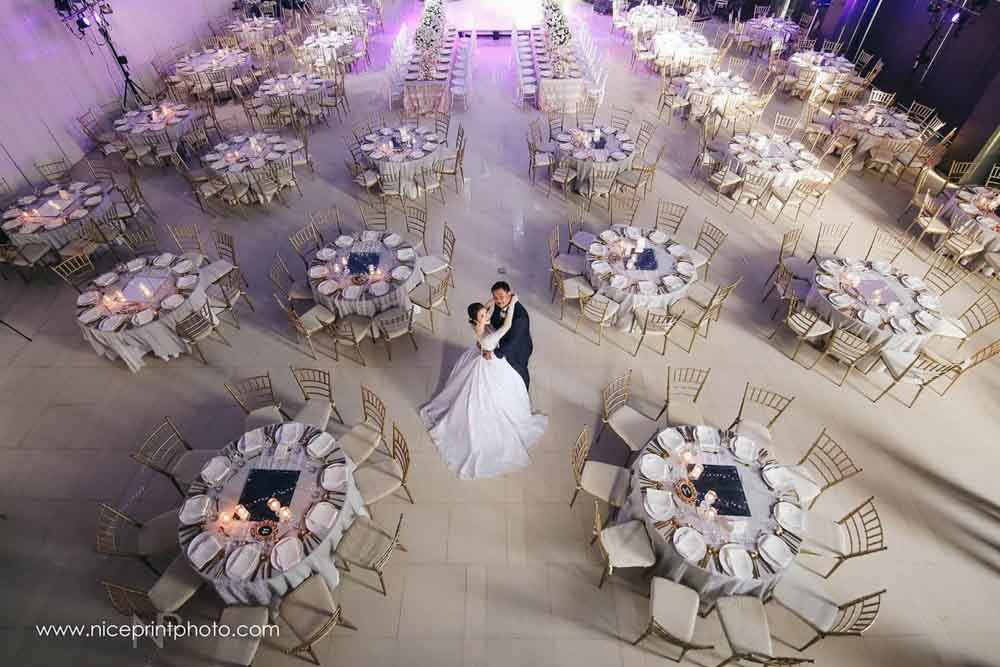 Regarded as The Blue Leaf's most captivating venue yet, couples can expect to have an unforgettable wedding experience that is sure to delight and surprise their wedding guests. With three halls (Monet, Picasso, Matisse) to choose from, couples can customize and personalize their wedding however they wish. With each hall accommodating at least 330 guests (or more if couples wish to book two or more halls), couples can have the big and grand dream wedding they have always wanted.
3.) The Blue Leaf Filipinas (ASEANA)
Located at Belle Avenue, Aseana City, Parañaque City, Metro Manila, The Blue Leaf Filipinas highlights that distinct Filipino flair and grandeur present in most local weddings and celebrations. Capitalizing on local elements and avant-garde Filipino artistry, The Blue Leaf Filipinas truly lives up to its name and reputation of being one of the best wedding venues available in town. With three halls distinctly named after Filipino festivals (Sinulog, Pahiyas, Pintados), soon-to-be-wed couples can choose how big of an event their wedding will be. The Sinulog Hall is the Filipinas' biggest hall yet and seats 500 guests while the Pahiyas comes second seating 300. Lastly, the Pintados is perfect for intimate events with a guest list of no more than 200. The events' space also comes with three function halls (Harana, Kundiman, Carinosa) ideal for corporate meetings, conferences, and seminars. These halls seat no more than 50 guests and may also serve as an alternative preparation hall for couples who wish to have more legroom for their touchups.  
Keep in mind that as one of the most critical aspects of your wedding event, choosing where you will have your wedding reception should be done with ample consideration. Sit down with your fiancé, discuss your budget, come up with a theme, know what your options are, and look for the place that ticks all of the boxes. The five venues listed above would not only allow you to celebrate your big day your way but would also help you set the perfect mood and ambience for the kind of celebration you want to have.
With streamlined architecture, comprehensive amenities, sophisticated and elegant interiors, the wedding of your dreams is just within your reach.