Wedding Aesthetics: 10 Unique but Memorable Ideas to Jazz Up Your Wedding
November 8, 2019
Planning a wedding is no walk in the park.
For anyone involved in the process, it is an endeavour that requires a keen eye for meticulous details while primarily sticking to a projected budget. This is true even if you are a bride who is not incredibly particular of the various aspects of your wedding. From coming up with a realistic budget, contacting suppliers to looking for a wedding theme while ensuring everything goes without a hitch–planning a wedding, indeed, can be a tad bit overwhelming. On the whole, it is not an experience that is comparable with anything else. However, once you have nailed down the reception venue for the wedding, expect things to be more enjoyable, albeit a little stressful, from there.
Your wedding reception venue is where the magic happens. It is where you can essentially make the wedding of your dreams come true by appropriately utilizing and applying decorations that are in fitting to your theme. Whether your wedding venue is a black canvas that requires extensive and elaborate dressing up or already comes with the background or backdrop that you want, know that there is a myriad of amazing touches you can add to make it truly your wedding and deeply personal to you and your spouse.
To ensure that your wedding will be unique and true to your aesthetic, we have compiled a list of unique ideas that will help turn your visions into reality. In this way, you can avoid having a cookie-cutter celebration and have one that stands out. Once you are ready to find a wedding style that suits you, take a gander at the ideas below for inspiration. From unconventional tricked-out transportation for your guests to eclectic cocktail snack ideas, here is how you can make a significant impact on your guests on your wedding day:
1.) Alternative Guest Transportation
Start your reception with a bang by giving your wedding guests a transportation experience like no other. If you have already been planning on shuttling your guests from the ceremony to the reception venue, do it in a way that leaves a lasting impression on them by making this little (and otherwise overlooked) journey part of the fun by renting cool and fun transportation. You can literally take them to new heights with a hot air balloon ride. Or, if you are having your wedding on an island, a tricked out boat ride. For a bit of flair, customize the ride by playing music, decking it out with signs and having someone pass around a bottle of bubbly.
2.) Pre-ceremony Cocktails
By now, pre-reception cocktail snacks and drinks are already commonplace and have been done by many couples for the past decade. In this regard, your guests will likely expect refreshments while waiting for you and your spouse to finish the post-nuptial pictorials. To take it up a notch, begin serving your drinks prior to the ceremony by setting up a table of light beverages on the way to the ceremony. Your guests will appreciate this–especially if you are getting married during the summer season. Just ensure that the drinks you serve are not too strong as you would want your guests to enjoy and remember your ceremony as well.
3.) "To-Go" Valet Gifts
Make your guests feel extra special by having your valets place small favours or light snacks in their cars before handing them their keys. If you do not have valet service, set up a table with baskets of gifts on top for guests to grab on the way out. Gift baskets may include soft eye masks with a note from the couple as well as hangover kits.
4.) A Video Confessional Booth
Photo booths are ubiquitous additions to a wedding insomuch that weddings without them can feel a tad bit lacking. However, for a fresh twist on this hot new trend, consider renting a video booth instead where you can encourage your guests to record an on-screen message for you. You can then ask your videographer to edit some of the best clips into your video and have the rest compiled and posted on your wedding website. From here, you can prompt your guests to check them out along with your respective personalized thank-you notes to them.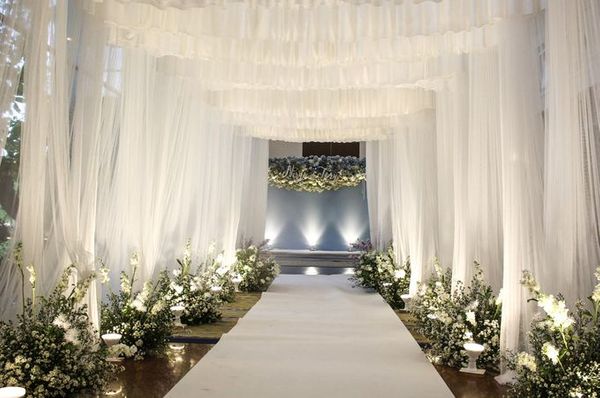 5.) Decked-Out Entryway
First impressions matter and when it comes to a wedding, making a good and lasting first impression is imperative. This is not to say that you should excessively splurge on archways or giant floral arrangements, but at least take time to think of a creative and unique entrance to your reception. It could be in the form of a reception area with a couple of flower arrangements or a stylish seating chart display for your wedding guests to follow. Alternatively, it can be any old family artifacts that would make sentimental but beautiful additions. They need not be expensive, so long as they make a significant impact.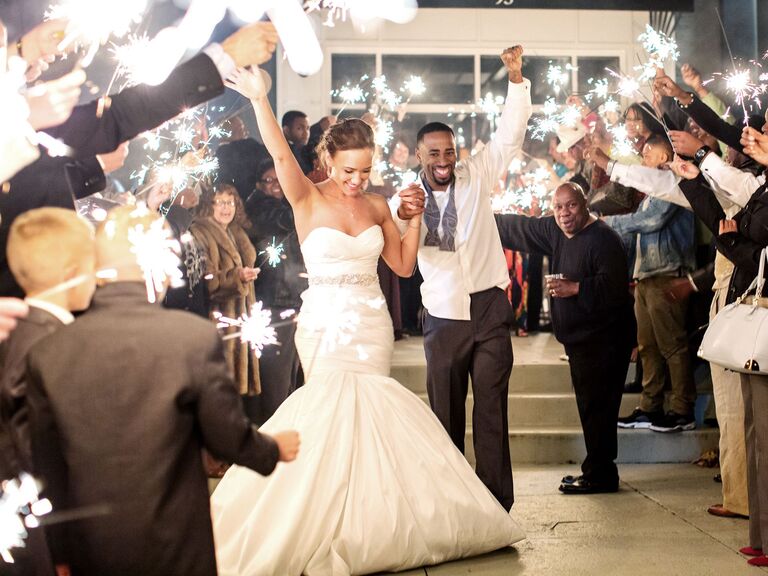 6.) An Impactful Ceremony Exit
More often than not, your ceremony exit will be a heavily photographed moment at your wedding. In this regard, you might want to go the traditional route of asking your guests to toss rose petals and confetti over you. However, if you truly wish to make a splash, think of an exit that is in line with your theme. Some of the ideas you can use are to pass paper airplanes to your guests, mini beach balls, or even ask them to hold sparklers as you make your exit. However, a truly grand exit would be to stage your very own mini parade by passing out parasols and noisemakers for your guests to escort you and your spouse to your getaway car.
7.) Change Your Dress
On your biggest day, there is no doubt that every pair of eyes will be on you. With this in mind, you might want to change into something different to give your guests a pleasant surprise. You can change out of your wedding gown into something a little shorter and flirtier for the reception so as to make you more comfortable should you wish to dance and party the night on. However, if you want to make the most out of your wedding dress by wearing it for the entire day then at least make other significant changes that would make an impact too such as switching out your heels, letting down your hair or adding a few new pieces of jewelry.
8.) Dessert Table
A table decked with an assortment of sweets and pastries would make an excellent and sumptuous addition to your wedding reception. Incidentally, dessert tables or buffets would also make an eye-catching decoration at your wedding reception venue, and the best thing about them is that you can eat them. Have tables laden with various sweets, doughnuts, cupcakes, cake pops, chocolate fountains and even some colour appropriate fruit skewers. This visually appealing table will certainly be to the delight of your guests and would make an excellent focal point of the reception room.
9.) Utilize Fairy Light Trees
If fitting to your wedding theme, rent LED cherry trees to pepper and dot around your ceremony room. Alternatively, you can use even smaller ones to serve as a focal or centrepiece in each table for a truly glamorous reception room. The unexpected arrangement lights complemented by the dim room certainly creates an elegant and aesthetic ambience.
10.) Midnight Snacks
Surprise the wedding guests who saw your program till the very end with midnight snacks that will surely liven up the party. Just when everyone thinks that the party and fun are already winding down, break out the snack bar, or have your waiters serve late-night snacks that will have everyone ready for an after-party. Some of the food items you can include in your snack bar are a fries, milk shooters, chocolate chip cookies, a fully loaded nacho and taco bar, a doughnut bar–the possibilities are endless.
With a multitude of ideas to jazz up your wedding venue, you can certainly come up with a ceremony that is both unique and personal to you and your partner. Make the biggest and most important day of your life special and leave a lasting impression on your guests by incorporating any of the ideas above into the planning of your wedding.