Saying I Do: Seven Signs You Have Found the Perfect Venue
October 7, 2019
It is without question that choosing a wedding venue is regarded as one of the wedding planning's most stressful tasks. 
Apart from being the most significant wedding expense, selecting your venue is often done in consideration of a myriad of things: your budget, size of the event, and your theme. In this regard, it is inevitable for some engaged couples to find the crucial task of wedding venue selection a bit taxing. The importance of choosing a wedding venue is not to be underestimated and overlooked. After all, it is difficult–if not impossible– to plan anything else without having a wedding venue first. With that in mind, it is often recommended that couples proceed with the rest of the planning ONLY when they have chosen and settled on a final wedding venue. 
More often than not, it is not for the lack of knowing what you want in a venue that contributes to the difficulty of the endeavor, but more so on the fact that most couples have an overwhelming abundance of wedding venues in the Philippines that selecting one out of the many can be quite challenging. Venues come in different sizes and shapes but know that for whatever wedding theme you have in mind, there is always an appropriate venue for it. To make the selection process more straightforward (and condense your list of prospective venues), identify what you like and start from there.  
Also, you might want to look out for these signs that tell you a venue is the one:
1.)  It fits your budget 
While it might be tempting to stretch your budget to accommodate the venue of your dreams, know that it can potentially complicate your budget for other wedding essentials. Sure, the venue might make up the biggest expense, but it is not the only wedding expense you will be accounting for. If you have found a wedding venue that you love and it fits your budget, then you can proceed from there. But you might want to stop yourself from selecting a place that is beyond what you can realistically afford. You might have enough for the initial payment now, but if the full price does not fit squarely into your budget, you are going to be stressing over how to finish paying for it. 
2.) It is available on your wedding date 
Another primary consideration when it comes to wedding venues is the availability. If a venue is available on your wedding date, then proceed. However, if it is not and you are open to moving the wedding date, then you can go with that option. Alternatively, you can ask your wedding coordinator about a venue's availability before even scheduling a visit. In this way, you can save yourself from the disappointing news and heartbreak of falling in love with a venue you cannot have. 
3.)  The seating capacity works
At this point, you might not have an exact headcount yet, but you and your spouse-to-be should already have an estimate in mind. If not, you might want to discuss it with them first before you proceed with shopping for wedding venues. However, if you are unsure of a venue's seating capacity, then take it as a sign to look for another venue. 
4.) It has all your essentials 
Before selecting a venue, it is a good idea to have a list of the must-haves you wish for your dream venue to have. If you have not created this list yet, make it your initial wedding assignment. Once you have come up with a list, be sure to stick to it. To start, determine what the most important aspects are in making your big day happen. These are the factors that will help you identify the venue you opt for. More importantly, it would also help you narrow down the list of prospective wedding venues to check out. Whether you are choosing to have a garden wedding, a beach reception or an elaborate indoor event, knowing what you want can certainly go a long way to ensuring you find the venue that will make your dream wedding come true. 
5.) It has an excellent first impression 
Selecting the right venue is pretty much like purchasing a house insomuch that you can visualize your big day once you set foot in the location. In this regard, you should trust your gut. Check the venue out with your partner and determine how it made you feel when you first walked in. If you can see yourself together with your loved ones in the venue, take it as a good sign that you have found the right place for your dream wedding.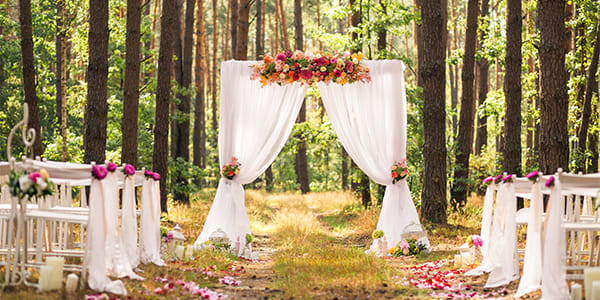 6.) It matches your personality 
While you and your partner might have a wedding theme in mind, know that the decisions you make about your day should reflect you and your partner's personality. In this regard, your venue should be a reflection of you and your partner's story. Go with your gut instinct. Finding and settling on your dream venue is often marked by the feeling of wishing not to spend your big day anywhere else but that particular venue. When this happens, take it as a sign that you have found your perfect place. 
7.) Love at first sight 
Much like how you fell in love, finding your dream venue can often feel like when you first set eyes on your future spouse. Sometimes, your search is concluded when you get an instant positive reaction to a specific venue. However, while this feeling can be taken as a good sign, doing your research and ensuring that it is still a good fit in terms of budget and capacity should still be taken into account. But if you are already dressing the venue up accordingly in your head and imagining yourself walking through the halls, it is a good sign. 
 Keep in mind that your wedding venue is going to be the place where you will celebrate one of the most significant and most momentous events in your life, so choosing the right one should be an utmost consideration. Beyond everything else, it should be a place where you can envision exchanging your beautiful vows to each other. The signs given above should help you start your journey in ensuring you will have an unforgettable wedding day–one that you can live and relive for the rest of your married life.